Tunisia is a small country with a big heart, a long history and endless surprises.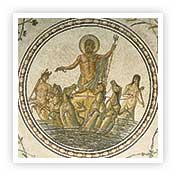 At the far north of the African continent, our country is the crossroads of the Mediterranean.
We have seen it all: Phoenician seafarers started calling at our shores in the second millenium BC, trading with the indigenous Berbers of the Numidian Kingdom. For centuries, the wealth of the Punic cities of Utica, Kerkaouane, and Carthage was coveted by Rome. Once the Romans were able to take Carthage in the second century BC, they built a majestic capital of nearly a million people.
Today visitors marvel at one of the longest aqueducts in the Roman world, the sumptuous mosaics in the Bardo museum, the remains of dozens of Early Christian and Byzantine churches and the splendid ruins of Roman provincial towns which dot our beautiful countryside.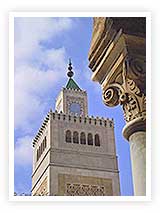 Zitouna Mosque in Tunis

During the VIIIth Century BC, followers of the Prophet Mohamed founded the city of Kairouan, the fourth holy site in the Islamic World. This Tunisian City invites you, indeed, to witness its warm welcome, to discover the charm of its souks, to visit its Great Mosque and to admire its captivating Islamic engineering and urban planning.
In the XVIth Century, the Ottomans brought their rich urban heritage to Tunisia and with the Jews and Muslims from Andalusia, arts and crafts, agriculture and culture flourished in the countryside.